Chris's camera pages
Canonflex RP
Canons first 35mm SLR camera, made in 1959, was the original Canonflex. The Canonflex has an interchangeable finder, an instant-return mirror, and a cloth focal-plane shutter which has speeds from 1 to 1/1000 second.
This was quickly followed in 1960 by the Canonflex R2000, very much the same camera except that it has a top shutter speed of 1/2000 second, and the Canonflex RP, like this one, which has a fixed prism finder, and a top shutter speed of 1/1000 second.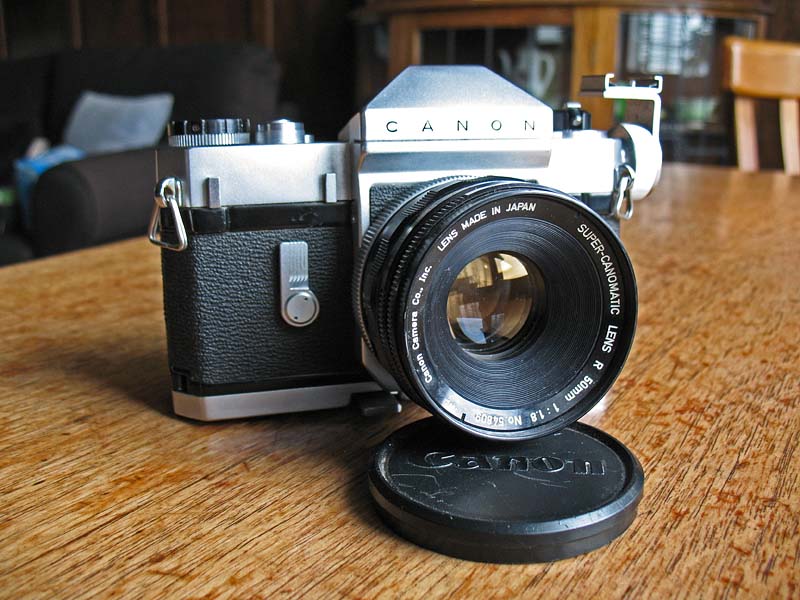 One quite unusual feature of the early Canonflex cameras, is the film advance, which is a lever mounted midway along the camera baseplate. The lever, which folds up flush with the baseplate when stowed way, is normally used with the left index finger, or the thumb when holding the camera vertically, and can be operated quite quickly with a little practice.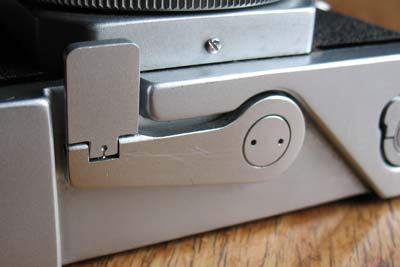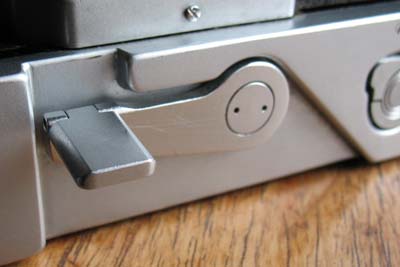 The Canonflex cameras have the same breech-mount as the later Canon SLRs like the FT, FX and so forth, but had a very different mechanism for actuating the automatic diaphragm of the lenses, with the consequence that while later lenses will mount on the Canonflex, the aperture does not stop down when the shutter is fired.
A clip-on exposure meter was available, which fitted on the right-front of the top cover. The meter couples to the shutter speed dial, but it is quite bulky, and I find it makes the camera awkward to handle.
To go with the camera body, I have the standard Super-Canomatic R 50mm f/1.8, Super-Canomatic R 135mm f/2.5, and Super-Canomatic R 35mm f/2.5 lenses.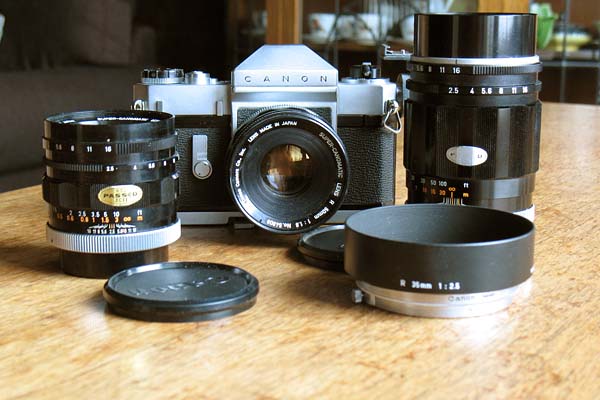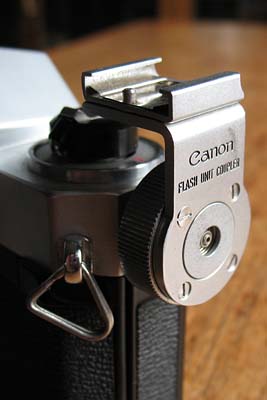 The Super-Canomatic lenses all have two aperture setting rings, a click-stopped ring to set the aperture to which the lens will automatically be stopped down during exposure, and a second ring without click-stops, which allows you to check depth-of-field prior to taking a photo.
I also have the original hood for the 35mm lens, the accessory shoe, which fixes to the left-hand end of the top cover, and a Canonflex T2 lens mount, which will allow me to use any T2 mount lens I might have here.The Canonflex RP was followed by the last of this range of cameras, the Canonflex RM, with built-in exposure meter.