Chris's camera pages
How to replace a missing Kodak Retina rewind button
So that great new Retina you bought for your collection has lost it's rewind button? Here is what you need to know.........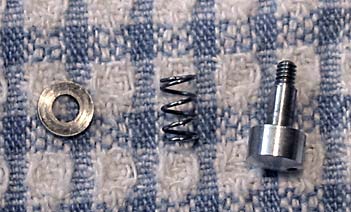 The parts that are missing from your camera are the washer, the return spring, and the button itself. You'll need locate proper replacements from a suitable organ donor. The parts were common to many Retina and Retinette models.
---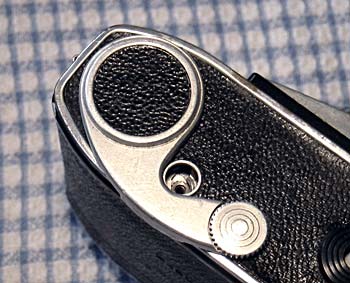 ---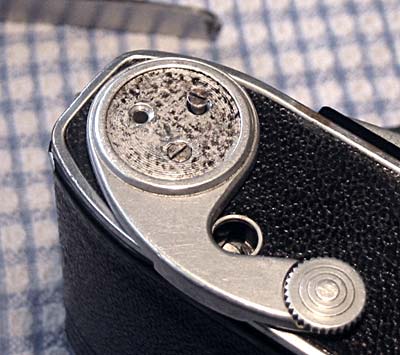 Next, remove the three screws holding the advance lever in place.
---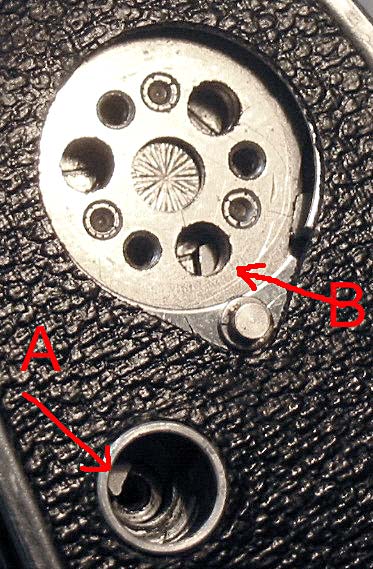 In the larger picture you can see both ends of the lever that holds the rewind button "clicked" in place until released again by the advance lever. You will see that moving the end of the lever visible through the hole in the advance shaft plate, marked "B" in this picture, swings the end of the lever visible here in the hole marked "A" out of the way. The smaller picture shows the order of assembly of the parts. You will need to hold that lever back out of the way with a the tip of a screwdriver while you screw the rewind button into place. Just use you fingers to screw the button in place.
---
Replace the film advance lever, check that the rewind button "clicks" in and releases when the film is advanced again.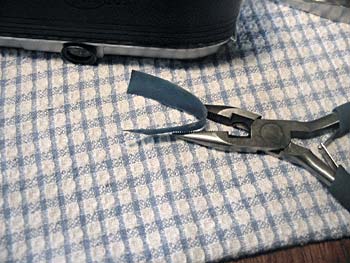 Before you tighten the rewind button you will need to pad the jaws of your pliers with something soft with a good grip. A scrap of leather will do, here I have used a piece of sticky plastic substance called "Dycem".
---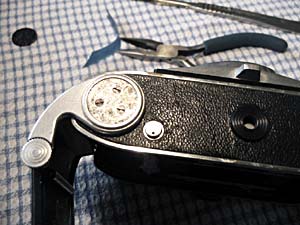 Swing the advance lever forward to give yourself some working space, with the camera back open, hold the film advance sprocket from turning with your thumb while tightening the rewind button. Stick the leatherette disk back in place with your favourite adhesive, not one that will melt the leatherette. Job done!