Chris's camera pages
Pentax MX
Manufactured around 1976 this SLR is fitted with a bayonet mount lens. This camera is slightly smaller and lighter than the Olympus OM-1, which had been the smallest full-frame 35mm SLR at that time.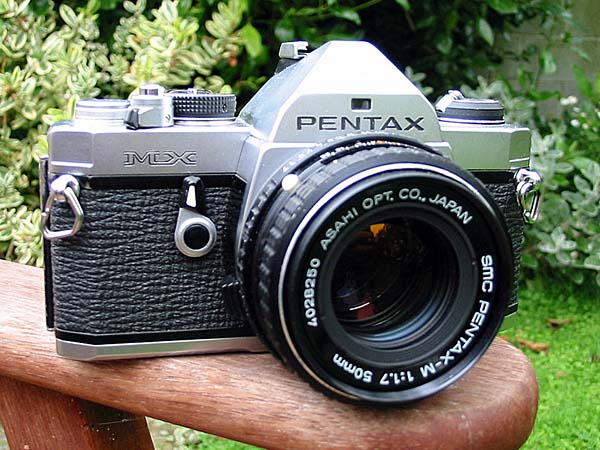 The MX has the selected shutter speed displayed in the viewfinder and the aperture setting is visible through the tiny window on the front of the prism housing. The exposure meter uses LEDs in the viewfinder instead of a needle as with earlier Pentax models to indicate the correct meter setting.
The standard M series lenses available were a 50mm f/1.4, 50mm f/1.7 and a 50mm f/2. There was also a 40mm f/2.8 'pancake' lens, which was less than 19mm deep and when this is fitted, the camera is quite pocketable.
The focus screens on this model are interchangeable, seven different screens were available, apart from the slit-image and microprism one fitted as standard.
A motor-winder was also available, which is different to that used on the Pentax ME and ME Super.