Chris's camera pages
Braun Super Paxette II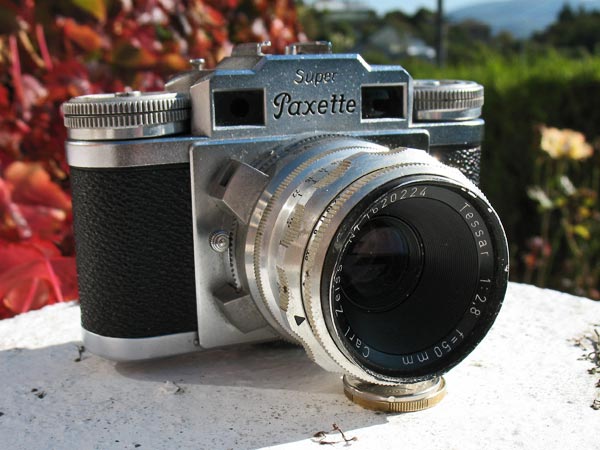 A simple, but well made 35mm rangefinder camera from Braun. This model was probably made around 1957 and was available with a choice of interchangeable lenses as listed below, in this case the camera has a Carl Zeiss Tessar 50mm f/2.8.
Braun made a whole raft of similar cameras, the factor that distinguishes a 'Super' model is that the rangefinder is coupled to the lens. A camera with a fixed lens is a model I, one with an interchangeable lens is a model II. So, if the camera is otherwise identical, and has a coupled rangefinder like this one, but has a fixed lens, then the camera is a Super Paxette I. A similar camera to this one with an interchangeable lens, but instead having an uncoupled rangefinder is a Paxette II.
These cameras were fitted with Prontor SVS shutters, one with speeds running from 1 to 1/300 seconds plus B. The shutters have M and X flash synchronisation, and have a built-in self-timer.
The shutter release is a knurled button on a lever, at the right-hand side of the shutter body.
The film advance is by lever on the top-right of the top cover. Two complete strokes of the advance lever are required to cock the shutter and advance the film to the next frame.
There is a conventional knob to rewind the film at the left-hand end of the top cover. The rewind button, which must be held depressed throughout the entire rewinding process, is the small button on the top of the top cover, on the right, towards the rear.
Accessories and lenses
Standard lenses
Staeble Kata 45mm f/2.8
Steinheil Cassarit 45mm f/2.8
Schneider Xenar 50mm f/2.8
Zeiss Tessar 50mm f/2.8
Roeschlein Luxon 50mm f/2.0
Steinheil Quinon 50mm f/2.0
Wide-angle and long-focus lenses
Staeble Choro 38mm f/3.5
Isco Westron 35mm f/3.5
Enna-Werk Lithagon 35mm f/3.5
Staeble Telexon 85mm f/5.6
Steinheil Quinar 85mm f/3.5
Roeschlein Telenar 90mm f/3.5
Enna-Werk Ennalyt 135mm f/3.5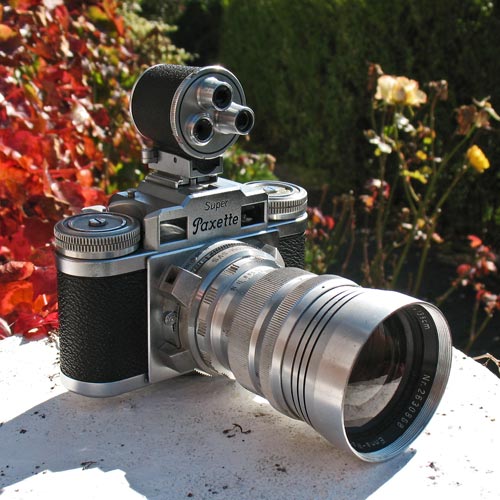 In addition, various accessory viewfinders were available to suit the field-of-view of lenses, including this rather nice turret finder for 35mm, 85mm and 135mm lenses.

---
Super Paxette II instruction manual
on Mike Butkus' excellent website.